Honda Europe
Influencing €1bn of revenue through a programme of innovation for their car, power products and motorcycle divisions.

We are helping Honda Europe identify key drivers in value from their business and deliver tangible change through rapid delivery cycles. This approach has increased revenue and created efficiencies across its car, motorbike and power product business.
We began by focusing on the increasing average revenue per user in the motorbike category by boosting the sale of high margin accessories across the range. A configuration tool was developed that integrated legacy systems with a range of micro services to deliver a solution in 4 months that achieved an instant uplift across 23 markets.
Following this initial success we have strengthened our relationship with Honda to cover a broad range of activities:
Strategic analysis of digital estate
Integration with finance systems to provide real-time quotes to customers
Audience research to inform new product development
Deployment of new digital products in the factory to increase team engagement
We're also helping Honda create a connected car app for the next generation of Honda cars.​ The MyHonda+ iOS and Android app integrates with Europe-wide vehicle telematics and support the launch of a new Electric Vehicle (EV).
Event driven architecture, serverless technology and IoT are all being used to deliver complex legacy solutions that are both flexible and scalable.​
This has defined an experience that enables users to get the very best out of their car with usage analysis, remote interactions and real time information.
Features we've developed as part of this, include:
Safety – e.g. Stolen vehicle tracking
Convenience – e.g. Remote charging​
Control – e.g. Sending navigation to vehicle​
Digital Key - enabling customers to use and share their vehicle with just their phone
Integrating with IBMs global telematics service and Amazon Alexa​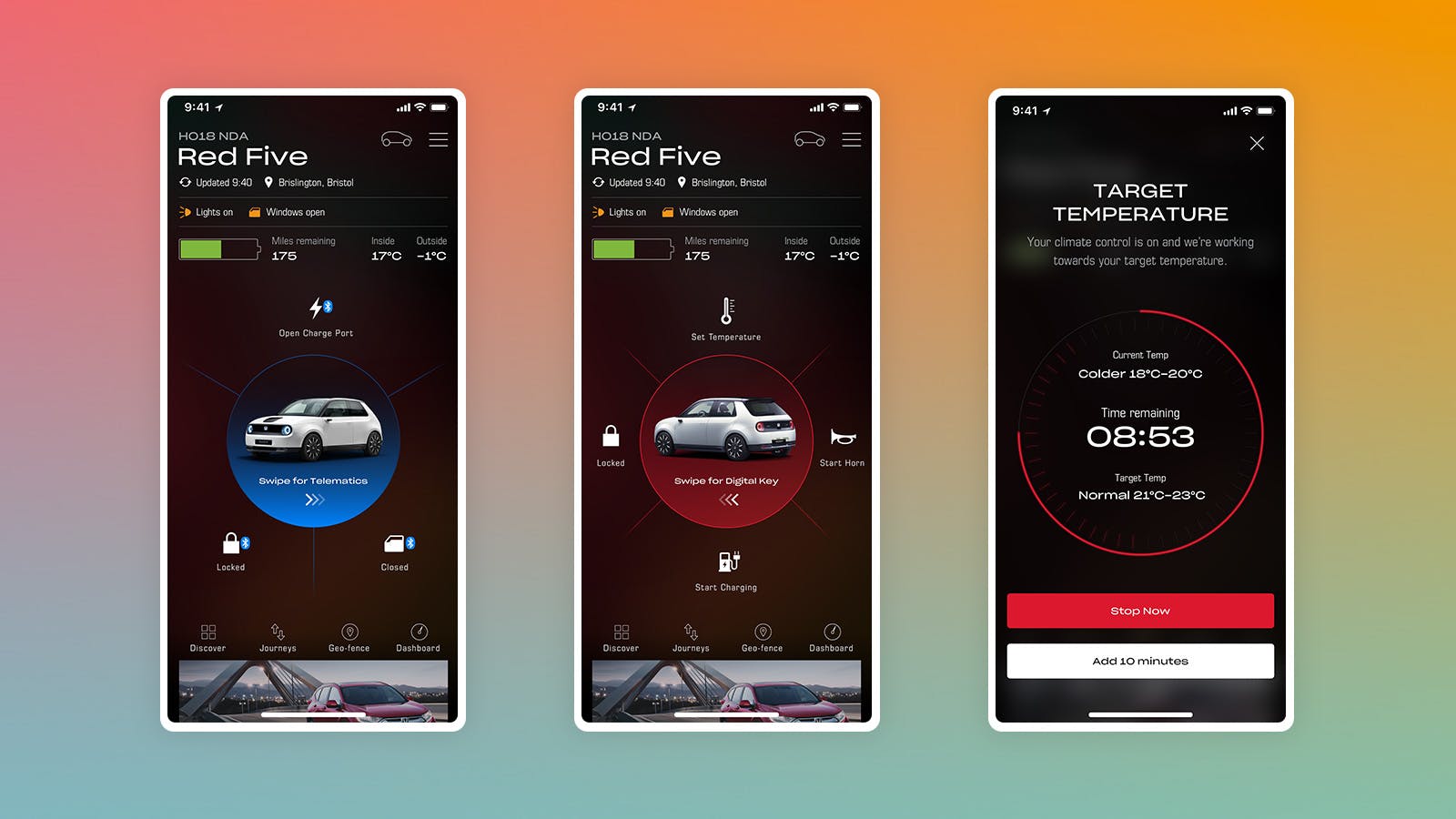 For more information on our work with Honda Europe get in touch.