Gen Z appeal: how the Royal Navy got it right
We collaborate with the Royal Navy on more than just their digital transformation projects.
As their lead digital agency, we work alongside their marketing and communications team and wider agency group to develop multi-platform content strategies and campaigns to support their recruitment efforts. The health of the Royal Navy relies on a constant flow of new applicants registering their interest for a life at sea and it's our job to help them be seen and be heard by the right people.
So, who are these target potential recruits? It's Gen Z. A cohort of young people who are unlike any other generation to have come before. They're digital natives, they've grown up with technology and are digitally literate. Their influence with pop-culture is almost symbiotic and they move quickly. They're bombarded with digital messaging every day and to deal with this, they're quick to separate the wheat from the chaff, and therefore campaigns need to land quickly if they're going to stick.
A big recruitment problem
We know from the Defence Personnel Statistics Report from last year that military recruitment across the board is an uphill struggle. In the 12 months to 31 March 2022 there was a was a negative net flow of personnel.
However, it's important to know that these figures don't exist in a vacuum. Today, UK unemployment is at its lowest level since 1974 with the number of vacancies remaining at near historic highs. There are more job openings than there are unemployed jobseekers.
This means that there is fierce competition on the jobs market for the right kind of Gen Z applicant. The public sector is having to compete with consumer brands and recruitment campaign spend is increasing across the board.
Making noise in a crowded space
We needed to devise, create and roll out a recruitment campaign of epic proportions through a mobile first, multi-channel video campaign. We needed to stop the scrolling and prick up the ears of the Royal Navy's Gen Z audience but most importantly, we needed to drive action. Our success was to be measured on an increase in expressions of interest (EOIs) to the service.
It was a big brief and of course, there were of some big factors outside of our control, but there were certain things within our power to influence. We could ensure our message was visible across the right channels at the right time and we could present and articulate the roles to potential recruits in the most impactful way.
Any creative execution we deliver is informed by insight and this campaign was no different. So, we made sure that we:
Distilled universal insights into the right creative territories.
Included consideration of broader context as well audience insight.
Ensured content aligned with the known Gen Z mindsets and sensibilities.
We dived into research about emerging trends in the Gen Z space and we continued to build our strategy upon a few clear points of focus. We made sure that the work: 
Was values-driven with a humanitarian message - showing a different side to the Royal Navy's purpose.
Re-framed the salary – finding new ways to talk about financial benefits and dodging the cost-of-living crisis.
Highlighted the non-financial benefits such as travel, free gym, free qualifications, and 6 weeks holiday.
Prioritised female-fronted assets across platforms.
Reversed anxiety of an uncertain future, presenting The Royal Navy as a place where you can learn and progress - and have fun doing it.
The creative solution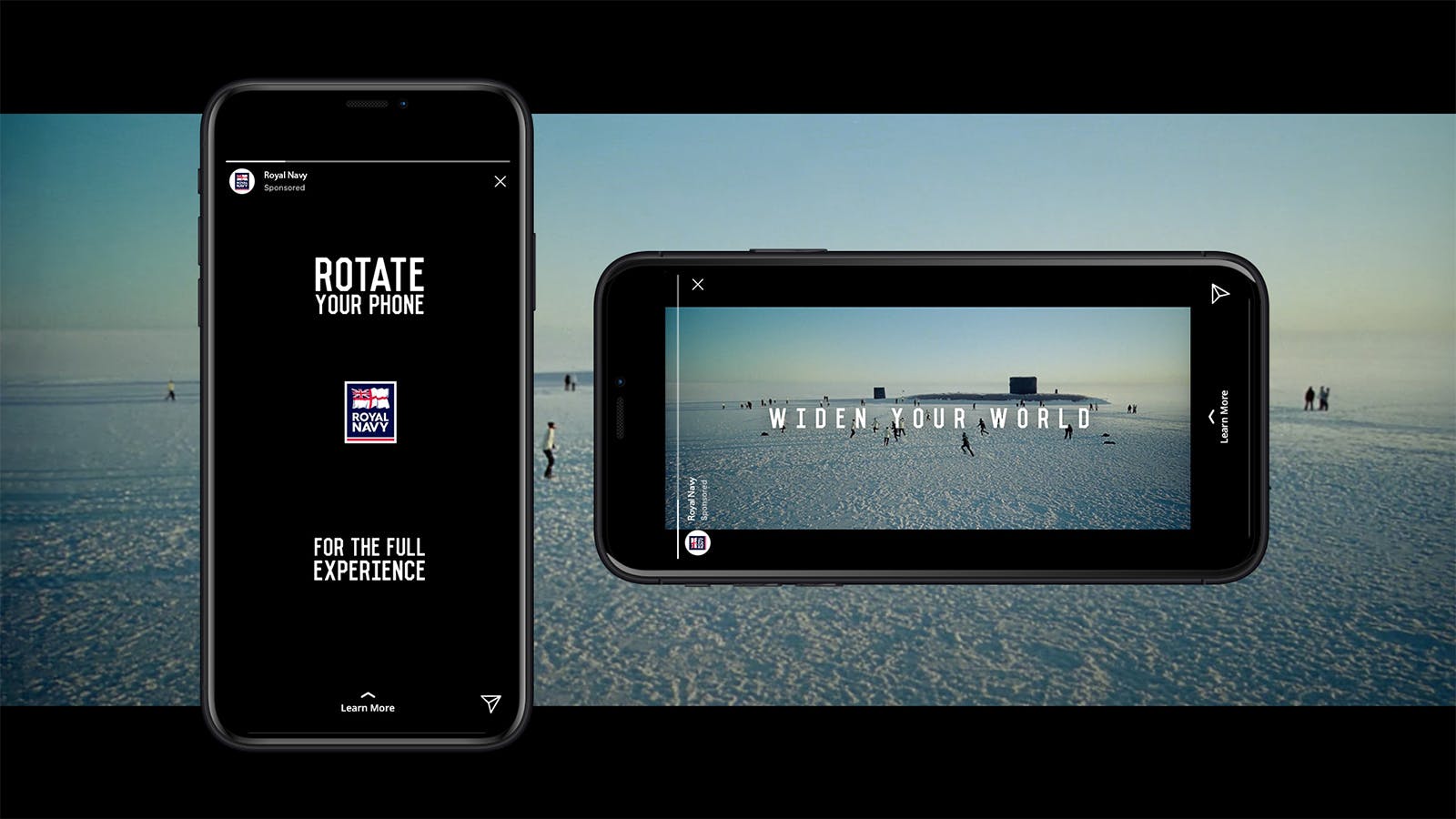 Our creative team devised a unique, bespoke approach to the campaign video content.
Based on one of our key insights about Gen Z's current post-pandemic mind set of feeling isolated and longing for experience, we ramped up the adventure and camaraderie angle of our messaging and visuals. We consciously selected footage that highlighted the far flung destinations they could find themselves working in, and the huge variety of responsibilities with a Naval career. 
We analysed traditional Naval communications strategies, applied our insight and went in strong with one single-minded benefit to appease each Gen Z anxiety. Each target received their tailor-made creative execution at the right time, in the right place. We delivered 340 pieces of content, over seven channels, for seven different audiences with a huge impact.
In addition to using kinetic type and on-trend motion techniques and collaging effects, we introduced a new 'scroll stopping' execution to attract and encourage the audience to rotate their phone, by showing landscape form content in a portrait screen. This resulted in a conscious decision to engage in the content and also offered greater immersion in the new, widescreen content.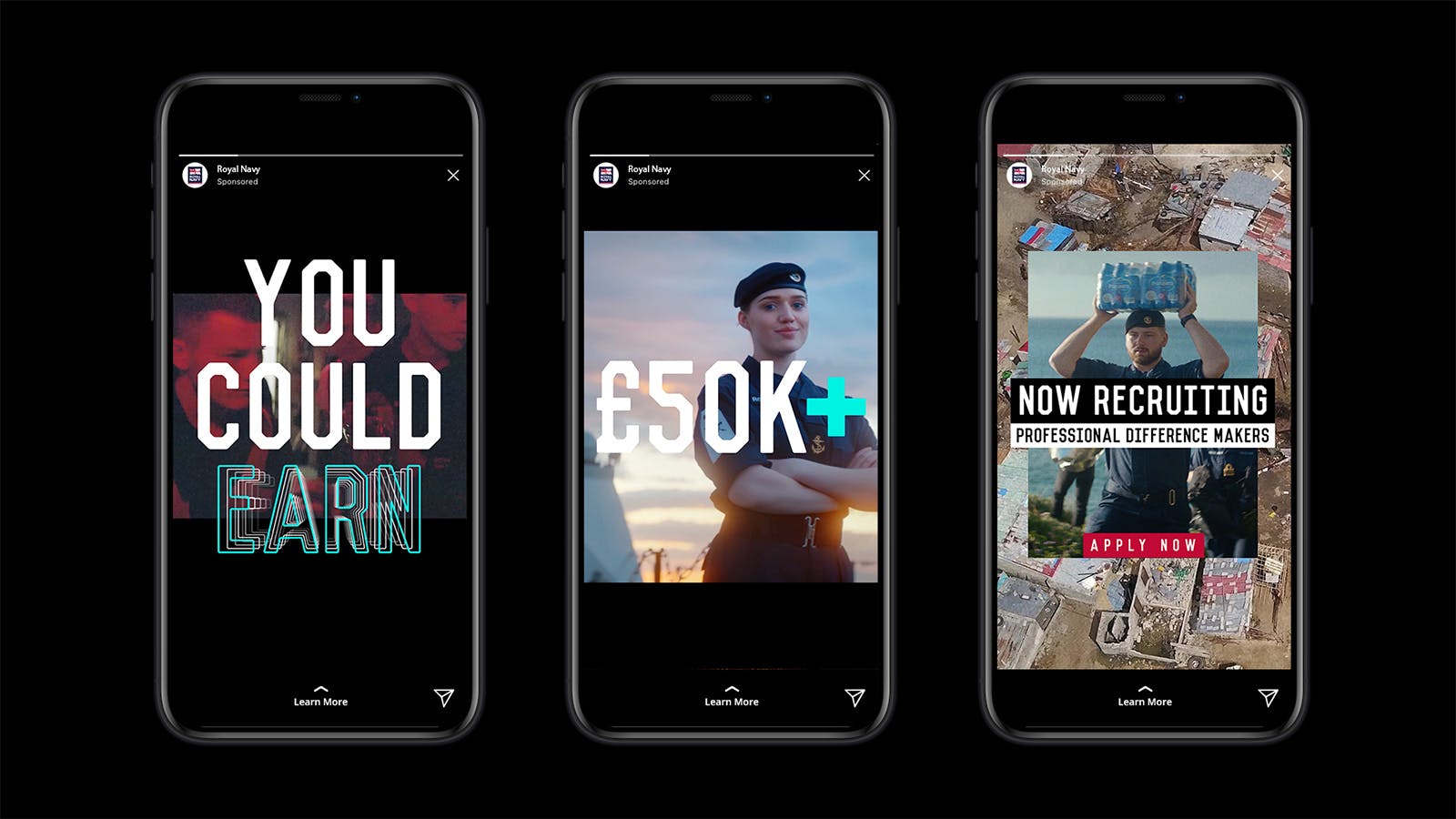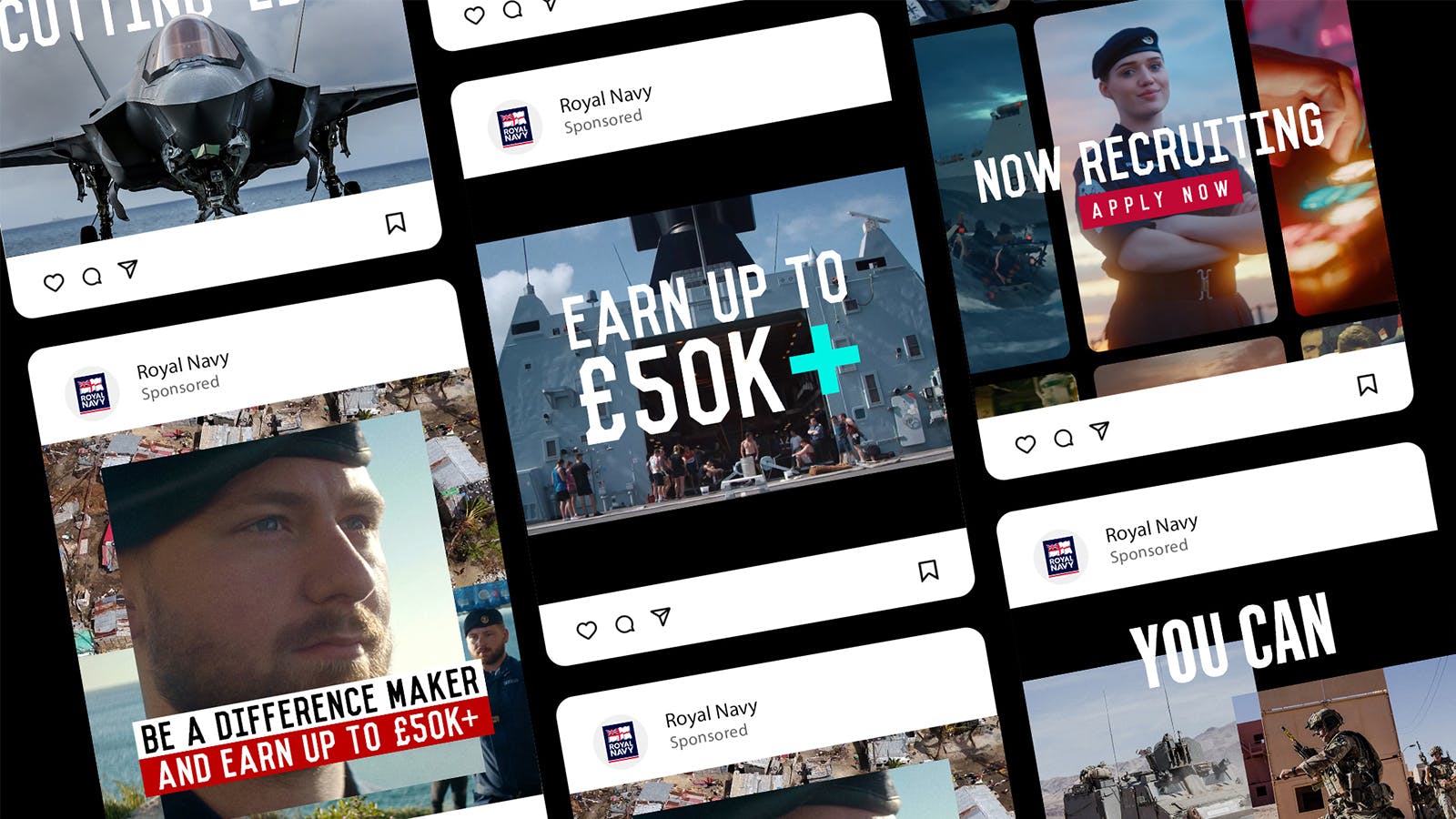 The results
Our campaign saw a 93% increase in traffic to the website with an 150% increase in dwell time and a four-fold increase in applications, year on year. We also cut costs for the Royal Navy – with a 41% reduction in cost per expression of interest. That's how social media powered the Royal Navy's recruitment efforts.
If you'd like our help in strategising and developing a communications strategy that lands with your target audience Gen Z, then send us a DM.