Adobe Target: getting personal with AI
Adobe Target provides everything you'll ever need to optimise your customer experience. Its capability allows users to automate the targeting process and deliver highly-personalised content, in real-time. It's a platform that helps leverage what you already have and provides you with the tools to deliver value quickly to your customer base.
So, what's interesting about Adobe Target? It's not just a testing tool, it mixes in personalisation and leverages data from the Adobe Experience Cloud and third-party sources to help you test and optimise your web channels. It provides you with full coverage across all your digital channels, web, email, banners and ads, enabling you to test, personalise and optimise full customer journeys.
Adobe Target also throws in Artificial Intelligence with its Sensei product to further assist with the refinement of the outputs to make sure that every individual user is served the right experience.
This isn't to be overlooked.
AI is a game changer when it comes to offering the next level of automation within personalisation; without the need for human interaction.
Data is everywhere, and it's somewhat challenging for a marketing manager to leverage a joined consensus of disparate data sources and data structures from multiple channels and tools, to provide the insights required that can be actioned by a system.
This does imply a culture shift within a business, as you'll be giving up control and that's challenging to overcome in an environment where there are set controls and processes.
How do you get Adobe Target up and running within your organisation?
Adobe Target is a lot more straightforward than you'd realise. A lot of customers have the impression that you'd need the Adobe Experience Manager Suite or Adobe Analytics. Whilst there are benefits to the integration, Adobe Target is platform agnostic and can integrate with any content management system.
Let's get technical for a minute. Adobe Target provides two integration models, Server-side optimisation and Client-side optimisation.
This looks something like this: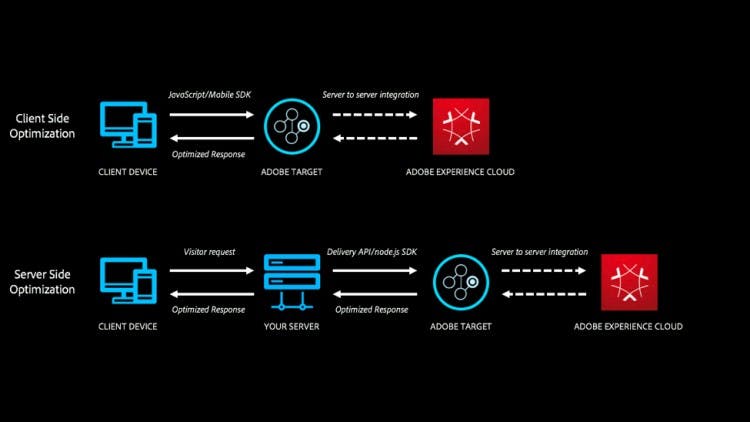 Client-side optimisation: the client device, such as a mobile phone, laptop, or desktop computer, originates the call. These devices will use at.js, the JavaScript library of Adobe Target or one of Adobe's native mobile SDK's to tell Adobe what's going on.
Server-side optimisation: your server originates the call and your developers leverage the Adobe Target API in their code to make the requests. Adobe offers a node.js SDK to roll this out easily.
Which option is best suited for you?
This depends on a variety of factors, from your specific business needs, priorities, technical expertise and the amount of resource you have available.
But don't worry we're here to help you with that.
If you want to know more about Adobe Target and how it can specifically help your business, please get in touch.