In at the deep end – creating content for The Royal Navy 
I never imagined, when I started working in digital marketing, that I'd find myself stuck up to my waist in mud and having to ask a Royal Marine to pull me out and rescue my shoe. 
But that's what happened when I went to film what goes on at the Commando Training Centre Royal Marines as part of the social media work we do for the Royal Navy Recruitment and Attraction (R&A) team. 
The R&A team's social media strategy is to show useful and relevant content, showcasing three things: their People, Purpose and Potential. One of the ways we support this is through Instagram "takeovers". These are Instagram Stories that go behind the scenes of life in the Royal Navy. We've shown where new recruits are put through their paces, and highlighted specific branches where people start their Naval careers.
All our content is designed to take the audience –  primarily from Gen-Z – on a journey of attraction, persuasion and finally conversion into Expressions of Interest on the Navy website. Instagram takeovers are a great way to reach that audience and take them seamlessly through the journey, while covering the content pillars in an authentic and engaging way.  
We know the Gen Z audience like to get involved on social media, so I wanted to give them more opportunities to engage with posts. That meant more content and more interactivity, and the only way to do that efficiently was to go on-site ourselves. We needed to be fully immersed in the experience of basic training, in order to find great stories to inspire future recruits.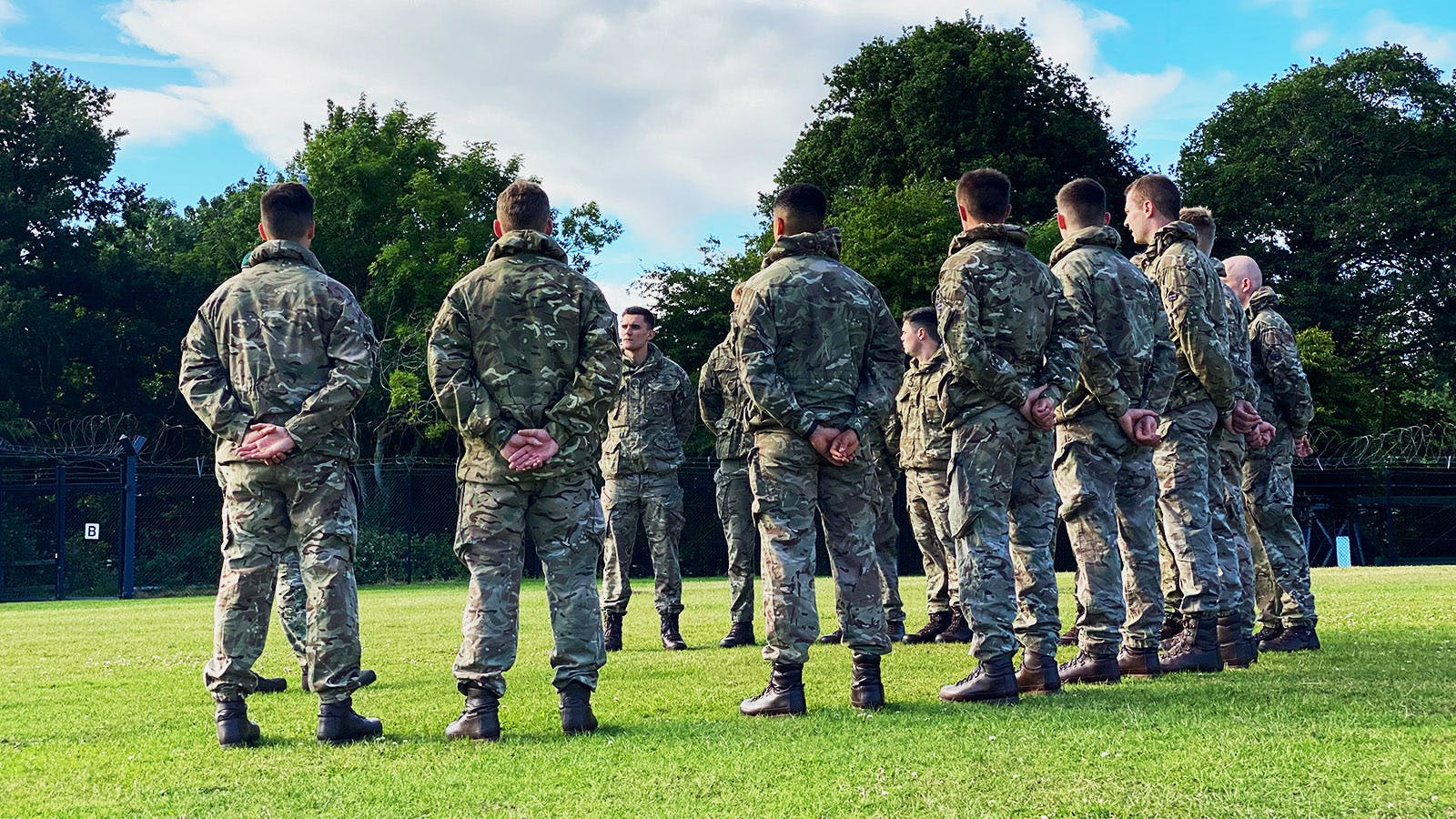 Basic training they said...
... at least that was the plan! But in my second week at Great State, I was literally thrown in at the deep end. Due to Covid issues with colleagues, I had to go it alone! Off I went for two days at HMS Raleigh, the Royal Navy's basic training facility for Ratings in Plymouth, then one at Britannia Royal Naval College in Devon, where the Royal Navy trains its officers. I was filming content on my iPhone all day and posting it to Instagram in the evenings. 
I'd done an initial post before the takeover, inviting our audience's questions about life in the Royal Navy. Then, as the takeover went on, we monitored audience feedback and added more questions to the list. Lots of people asked about the food and accommodation, for example, so we filmed in the canteen and where the recruits sleep. We also asked questions of our own,  including what had inspired the recruits we met to join the Navy. 
Then, to create more interaction, we ran quizzes and polls. At one point, all the recruits I interviewed were saying the highlight of their week had been Jupiter Point. So I asked our audience; "Do you want to see Jupiter Point tomorrow?" When 89% said yes, I headed out there to film the recruits trying to right a capsized boat – and met the resident seal, Sammy. 
What's more, because I was there with my marketing head on, I was constantly thinking about capturing additional material for use in the future. For example, we used the recruit interviews to create a 'Top 10 reasons for joining the Navy' post. That performed extremely well; even Bear Grylls commented on it, saying simply "Legends!", which was my little "Yes!" moment. 
Don't be a stick-in-the-mud 
My next takeovers – one for the Medical Branch, and one for Compass, the Navy's LGBTQ network, at London Pride – were managed remotely. But after that I was back on location, at the Commando Training Centre in Lympstone for the Officer Selection Course. Once again I was filming what they do, interviewing the recruits and answering the audience's questions. That's when I went round the endurance course and literally got stuck in the mud. I had to be pulled out by one of my marine escorts who, realising I had left my shoe in the bog, kindly fished it out. I still had to spend my remaining time there very wet and very muddy – and a bit smelly thanks to the local sheep.
But it was all worth it. The takeover generated 101 expressions of interest – 10 times more than a typical recruitment post. That proved bringing people into the action is what engages the Gen Z audience. 
Join the Navy 
These takeovers have been really successful. They hit our client's goals; they meet our audience's needs; and they're very efficient to produce. And for me, I love being immersed in them and meeting the people involved.  
I learned so much about the Navy in my time at HMS Raleigh and the Commando Training Centre. I came to understand some of their challenges, which helped me to think about how I could help them. It made me want to show them at their best, and to encourage people to go through that experience. It made me a convert, just by being there. 
If you'd like to learn more about social media management at Great State, then reach out, our (figurative) DMs are open.