We've been partnering with the Ministry of Defence on their digital products for some time now, delivering transformational solutions at scale.
We take our clients from the seed of an idea, through to full technical delivery boosted by our know-how of the public sector. We understand the processes that are unique to the industry, and, most importantly, the way we work, works for them.
So, it felt great when we were invited to be official partners at a Defence Hackathon. We weren't sure what we would be walking into, but never one to turn down a challenge, of course, we said yes! So, a small troop of Great Staters headed to a military base in the South of England to take part in a unique challenge for Ministry of Defence – The Defence Hackathon 2022.
But, what the hack is a hackathon?
A hackathon is essentially a techie bootcamp. Multidisciplinary teams get together to drum up innovative technological solutions to real-world problems in record time. It's high pressure, intense and a lot of fun. We knew this one was going to be a big deal because the whole military party was there: The Royal Navy, British Army, RAF, reserves, and Civil Service personnel. Ten teams had 48 hours to design a digital solution to real MOD-wide challenges and when time was up, they pitched their products and solutions to a panel of experts from across the services. Points normally mean prizes, but in this case, the best technical solution did.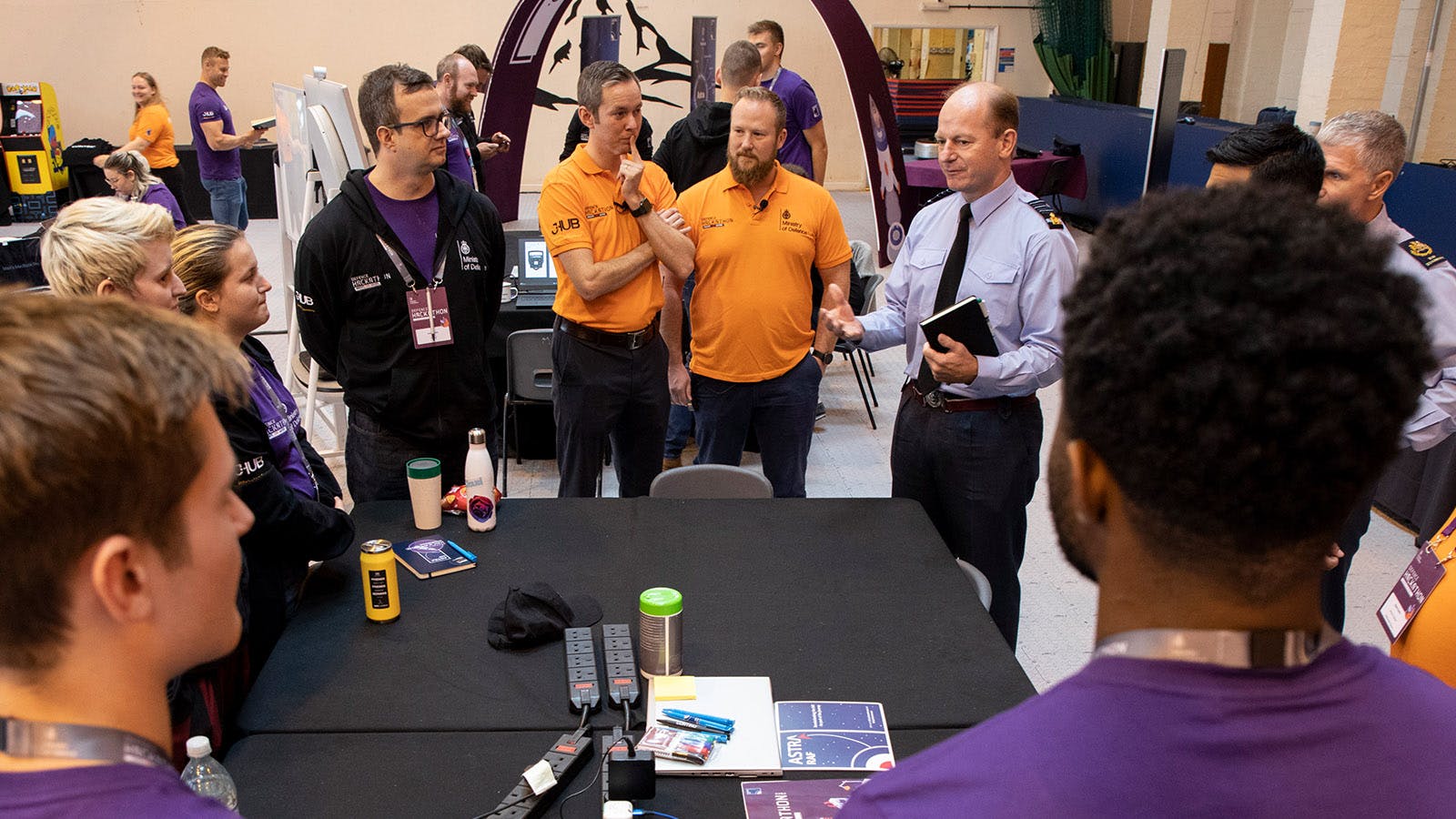 What were the problems?
The problems to be solved centred around three key areas: personnel, sustainability, and security.
Specifically,
The customer experience of the service complaints process. How can the customer experience of the service complaints process be improved?
How to move the MOD to a sustainable, robust, NetZero force by 2050. To design a solution that enables the MOD capture, exploit and export emission data throughout its estate to reduce the carbon footprint?
And finally, how to increase the physical security of MOD units and personnel through digital solutionism. How can the MOD utilise current and emerging technologies to provide a digital solution that is a force multiplier for the physical security challenges of the future?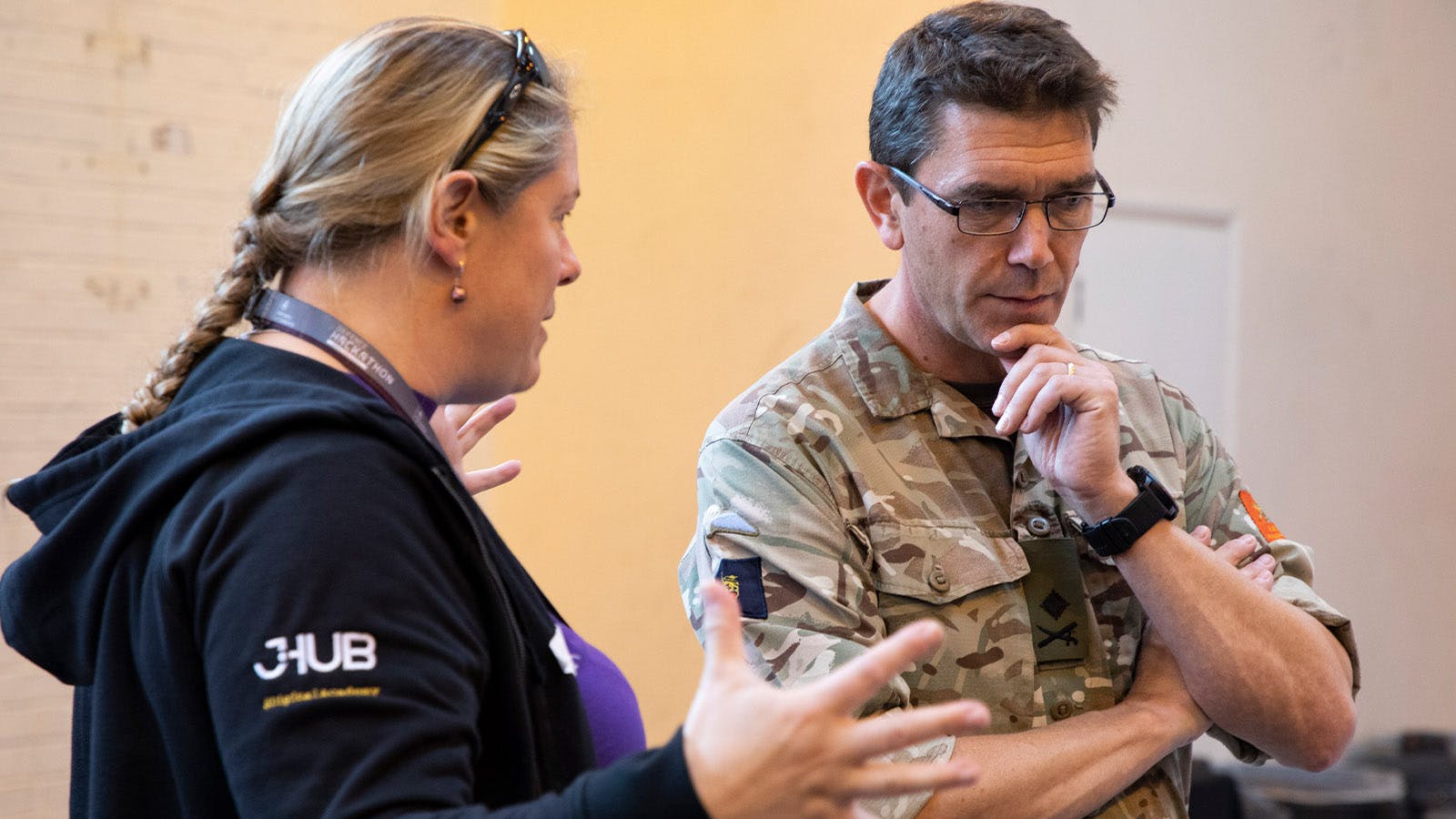 So, what were we doing there?
We offered our expertise to the teams to help them tackle their problem sets. This support fell into two areas:
Delivering a levelling-up session on user-centred product development and agile project management principles
Coaching and mentoring of the teams through the hackathon
First thing on day one, we ran our level-up session, a seminar/workshop entitled 'Adopting a product mindset and delivering user-focused products'. This session was designed to introduce concepts that would be helpful to the teams during the hackathon.
We introduced the idea of personas. A persona is an archetype, a fictional character created to represent a user who might use the product in a similar way. They're great because they not only help to identify use types, but they also build empathy with users, provide direction with regards to design and decision making and finally, they can help to communicate research findings.
We encouraged the teams to develop prototypes and subsequently, how to learn from them. Prototypes are excellent for brain-storming and visualising ideas through to testing a proof-of-concept. We also introduced paper prototyping which, whilst not only being fun and low cost, enables rapid iteration and helps to illicit honest feedback which hones development in the right direction, a heck (hack) of a lot faster.
We went over key agile principles, focussing primarily on Scrum. We explained the Scrum team roles (Scrum master, Product Owner and Development Team), ceremonies (stand-ups, backlog refinement, sprint planning and sprint demo) and values (courage, focus, commitment, respect and openness). Articulating the benefit of adopting an agile approach would help move the teams from a less effective waterfall methodology, to one where they could evolve the product in short build cycles - essential in the hectic 48 hours of the hackathon.
Once the hackathon was underway, we provided ongoing support and encouragement to the teams. This usually involved listening in to the teams as they worked, and sticking our oar in when we could see they were hitting a wall. We coached the scrum masters on running stand-ups effectively, assisted with conflict resolution and, on the last day, provided tips on how the teams could structure their final pitch presentations.
The hackers learnt a lot, but what did we learn?
The hackathon was open to everyone across the armed services, regardless of role or level of experience. Some people had never coded or worked in an agile team before, so it was a fantastic learning experience for all involved. We were surprised that not many personnel have experience with the public cloud, as it is not commonly used across the different services outside of public facing web applications. This meant that many participants were not aware of which cloud services were available and how they could potentially be used to support their hackathon efforts.
However, both Microsoft and AWS were present at the hackathon and provided teams with access to cloud subscriptions so they could leverage services – and they also provided a degree of technical support. As Microsoft and AWS partners, we were also able to provide some more detailed and practical support to teams when they came up against blockers or weren't sure which approach might be most optimal – which was fun for us, and useful for the teams!
All the teams took to agile quickly after our coaching session. It was fantastic to see them self-organising and adopting the Scrum roles and ceremonies. Some were even doing stand-ups every hour or two. The most successful teams embraced user testing and prototyping, allowing them to quickly understand what their users wanted and to validate their solutions along the way.
What was the biggest takeaway from the whole experience? Everyone loved our merchandise. And all in all, a hacking good time.