Race against time - the digital opportunity for university challenger brands
Why do students choose a particular university? Obviously, it depends largely on the course they seek, their circumstances, location and the grades they achieved.
According to research by UCAS 83% of students choose their course before their university. But other factors come into play, particularly academic and overall reputation which can have a powerful influence.
We surveyed over 2000 students and university leaders and our insights strongly pointed to another increasingly important factor – the delivery of digital learning and the wider digital campus experience. The debate about fees has brought the idea of Higher Education as a service and students as customers into sharp relief.
Covid pushed ill-prepared universities into delivering learning through digital channels almost overnight and many of those swiftly adopted technologies are sitting alongside existing legacy systems and forming the basis of the current digital experience for students across the country. Whilst 'normal service' has largely resumed, the emphasis on digital within H.E is sticking around, but universities need more than an Enterprise Teams subscription to keep the university system afloat. Learning transitioned quickly to the online space, but wider support services were widely left behind.
The combination of concerns about value for money, compounded by digital platforms brought about thanks to Covid, has caused a crisis in student confidence in Higher Education. National Student Survey scores in 2021 show a significant decline, while complaints to the Office of the Independent Adjudicator (OIA) are at an all-time high. Students expect to have a digital experience that at least works well, and up until now have been forgiving when it comes to the current shortcomings, but that 'grace period' looks like it's on its last legs. Currently, students are only partially digitally served by their universities, and it's essential that universities continue to push for digital advancement and innovations, riding on the momentum created by the pandemic.
So what is the the powerful issue underlying the dissatisfaction? It boils down to digital transformation and expectations of service delivery.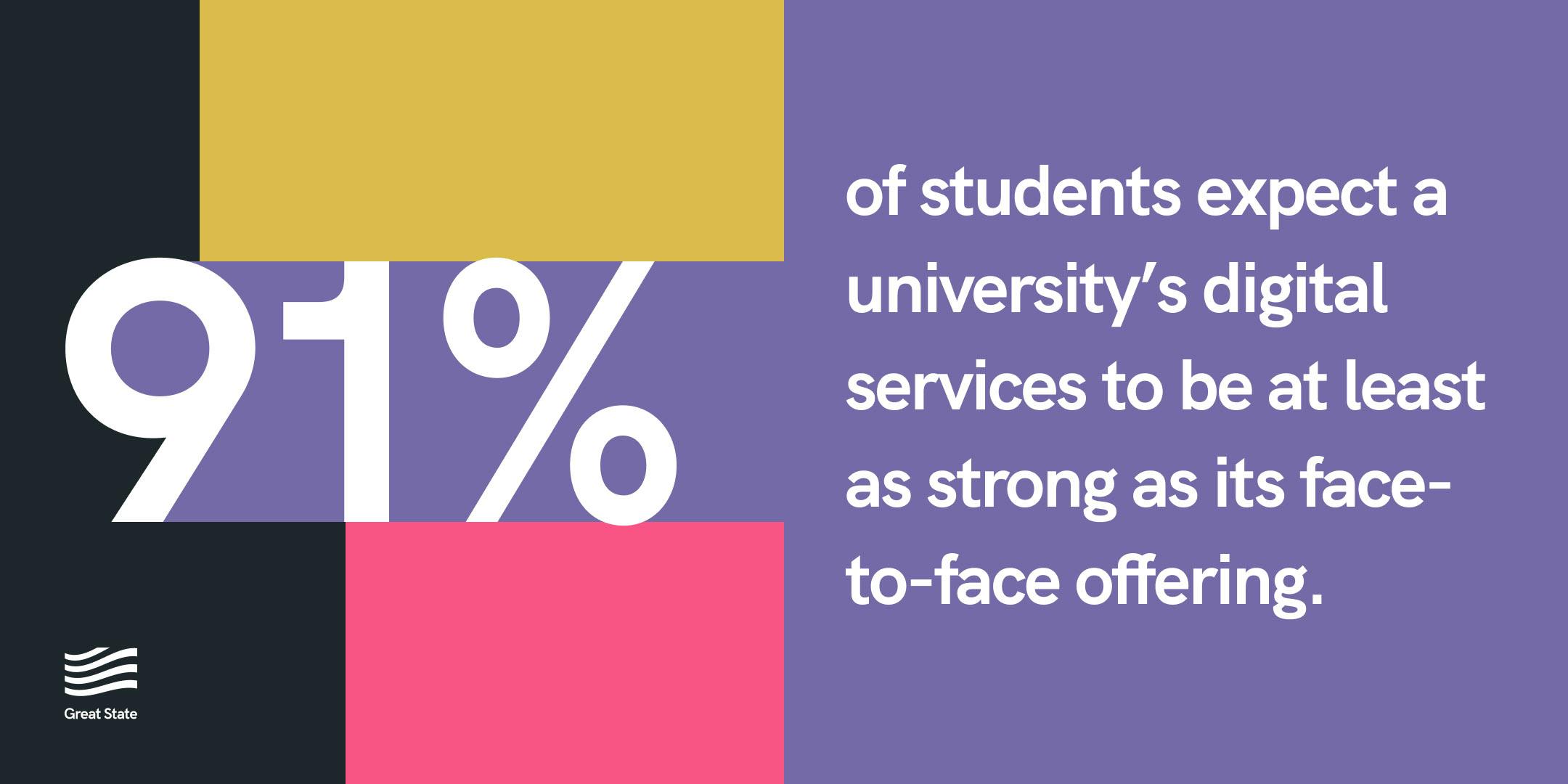 Universities are not exempt from transformation
High expectations of digital service are not simply an after-shock from the impact of Covid on H.E. In almost every other aspect of human life and business, digital transformation driven by customer expectations is in full flood. We are an app-based society. Why should universities be exempt?
The Higher Education Digital Experience Report 2022 revealed the huge gap between the digital experience delivery and expectations. We found that the TikTok generation of students see the digital campus experience as important as a traditional face-to-face university life and learning.
91% think university digital services should be as strong as face-to-face campus life and learning
Almost 70% of students say digitised universities must become as good as Amazon, Netflix and Facebook
Much focus has been given to digital learning in isolation and this is understandable given the impact of Covid on course delivery. But our study points to more comprehensive ideas amongst students about what university should be like - 93% want learning and campus services combined in a complete digital experience.
The strength of the opinion expressed in our study suggests digital delivery is now a fundamental aspect of the university experience undergraduates expect to receive. We found less than a quarter (23%) think their university's digital learning delivery is comparable to current standards of technology in other areas of life and this figure fell further when students we asked about wider service delivery.
90% of students say a good digital experience aids academic performance
86% say good digital experiences help maintain mental wellbeing
Who will make the leap first?
All it will take is for one HE institution to show students what a twenty first century university experience should be like to win a big first-mover advantage.
Given it takes two to three years to implement a digital strategy across a large organisation, complacent HE organisations may not act fast enough to close the gap as student patience runs out and expectations increase. Universities that fail to act now may be left behind creating an opportunity for challenger universities (typically former polytechnics and newer institutions) to close the gap or overtake 'premier league' institutions within for example the Russell Group. There is now a real danger that some universities will attribute this shift in student sentiment to the pandemic alone, but that really isn't the case.
Our study suggests universities have a limited time post Covid to act. It presents a stark contrast between what digital native students want and what they are getting – they expect to be respected as customers. Universities must understand the specific needs of their unique group of customers. They need to recognise exactly where customer needs are not currently being met and, equally importantly, the areas of the experience customers most value, as these might not be the ones they expect.
This means embracing "customer-centred" design thinking, so services are designed around students, rather than what is perceived best practice and suit the traditions of the organisation.