The fickle travel consumer: report launch event
Our research into the connected travel experience has culminated in the much-anticipated publication of our latest deep dive report, which includes interviews with leading travel brands and 1,000 UK holiday travel consumers.
The survey explored their attitudes and behaviours in relation to leisure travel and travel brands. We wanted to uncover how the they are booking holidays now, their habits and what this means for travel brands in a competitive marketplace.
We launched the report amongst a closed group of 12 leading travel brands including British Airways, TUI, Eurostar, First Group, London City Airport, TopDeck, CultureTrip and HiyaCar. Here are the top five take-outs from the launch debate.
3 take-outs from consumers
1: Lack of trust and loyalty
Critically, the results displays a serious lack of trust and loyalty for brands, with 52% of respondees stating they never book with the same travel provider twice. This lack of loyalty is most evident amongst those in higher income brackets, with almost three quarters of those earning over £65,000 saying they never book with the same provider consistently. When it comes to age, consumers aged 55+ are least trusting of any one provider to provide an end-to-end experience, with 15% saying they wouldn't trust any provider compared to a 9% average.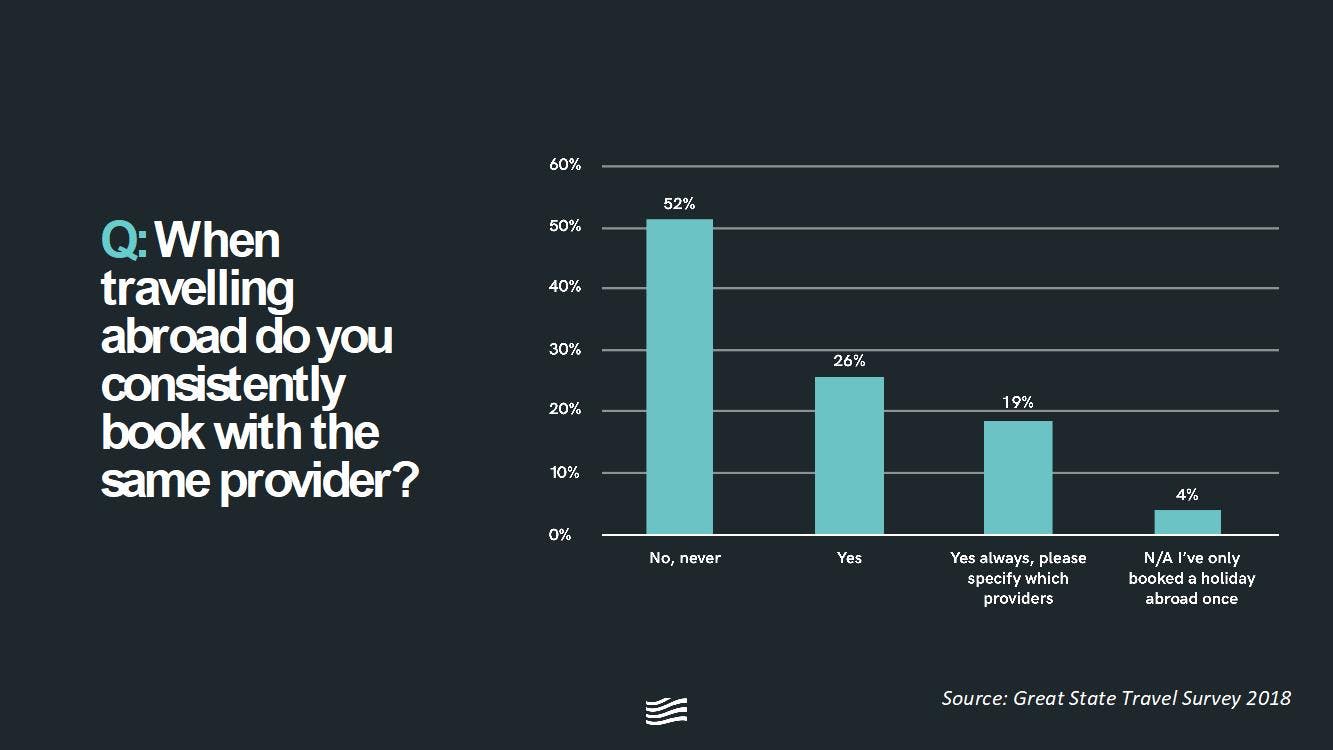 2: Deep frustrations in the travel experience
Compounding the trust and loyalty issue are traveller frustrations. The top three cited by respondents are delays and cancellations, queues and congestion, and unexpected or hidden extra costs (53%, 36% and 35% respectively). These grievances are far more significant than just indicating disgruntled travellers. They result in a lack of loyalty and trust and go some way to explaining why brands that rely on hidden ancillary add-ons to boost their bottom line don't feature in the list of those most trusted by consumers.
3: A desire for more timely information
Additionally, when examined alongside the fact that most commonly expected digital feature of travel brands, is live information - 53% of consumers said this - it's clear that customers want more timely information to help make more informed decisions about their journey, particularly when problems arise.
5 take-outs from leading travel brands
1: Strong brand vision and pre-motivation are key to engagement
Creating a strong brand vision is key to knowing where to focus your efforts and where to invest and reinforce brand values (e.g. trust) versus where to divest or partner. Tapping into into 'pre-travel motivation' was discussed as key to giving the customer what they actually want. Providing inspiration was considered crucial. Often the consumer doesn't know where they want to go, they just want a holiday that fulfils key criteria, such as sunshine, family-friendly, not more than three hours away. They all understood that the choice of service provider is often due to convenience and ease, making the concept of loyalty is complicated as the consumer has so many options and granular choices to make. In response the brands discussed their need to give clear reasons to garner loyalty, such as defined perks and greater cost transparency.
2: Find a way to agile, despite the challenge of legacy
First Group and Eurostar agreed that, despite being constrained by big infrastructure projects e.g. laying tracks that may take up to six years, travel providers still have to learn to be quick and agile - often by managing customer expectations rather than outstripping them e.g. with better communication – explaining when there's a problem on the line, that the buffet car is out of stock, etc.
3: Provide an end to end experience
All attending brands agreed that they need to provide a better end-to-end experience for the consumer, pre-during and post the trip. All phases have different requirements and need more careful consideration to alleviate pain points and deliver more delight, such as helping consumers to cross borders. navigating in a foreign language or easily finding local hospitals and authority support when things go wrong.
4: Partnership is power
The brands suggested that there are significant opportunities them to partner, as so many specialise in different parts of the what is ultimately the same journey, while historically acting completely independently. British Airways and City Airport were proud to share a partnership in action. Together they are rolling out facial recognition ('your face is your passport'). This particularly appeals to time-poor consumers where waiting at security is a major pain point AND it opens up wallets by giving them more time to spend money in the airport. Despite some consumers initially feeling wary of the intrusive nature of the technology, the brands believe that it will normalise quickly as the benefits are so immediate and defined.
5: Consumers come first
A shared challenge amongst the brands was the view that the consumers' demands are constantly outpacing their propositions. – Just look for example, at 'backpackers' nowadays and the fact the everyone carries a mobile everywhere and anywhere. Brands really need to define and research their target market, to best cater to their needs. It can be really hard to get real insight from big data and internal capabilities need to evolve to deliver true insights and translate them into added value for the customer. Without enhanced value brand loyalty is a significant challenge for all travel brands.
In conclusion
It's clear from our own deep dive research, consumer survey and live brand feedback that holidaymakers are more demanding than ever. And given how many things still go wrong when people are travelling - like delays, lost baggage and missed connections - that means it's all too easy to disappoint consumers and lose them to an ever-expanding set of rivals. In this context, brands' first priority must be to develop a great end-end customer experience, where common pain points are anticipated and potential disappointment is transformed into delight. It's the only path to winning a greater share of consumer attention, data and spend.
To find out more and read the full report head here.