CHOOSE YOUR FIGHTER: level up with gamification
Gamification isn't a new marketing trend but has recently boomed what with the rapidly accelerating influence of Gen Z on social media.
What do we mean by gamification? Apart from the concept itself sounding kind of fun, gamification means incorporating gaming elements into a non-gaming context, in a bid to improve engagement levels and encourage users to take specific actions.
Within a marketing context, gamification really finds its roots within Tesco's Clubcard or Starbucks Stars, where we're used to seeing brands encourage customers to collect points to gain exclusive discounts, products, or materials. Lidl are currently pioneering this with their scannable app, allowing you to track progress and see how far away you are from the next bonus. They're even supplying regular scratch cards with free products or discounts available to win.
Time to level up
Gaming is going to be a huge trend within marketing for 2023 and is already a key (and growing) interest for Gen Z and Gen A audiences coming through. The gaming industry is due to hit $583B by 2030 (a 165% increase from $220B in 2022), and marketing departments are going to need to get to grips with this to stay relevant and maximise new awareness, engagement, conversion, and brand loyalty. Brands who start paying attention to youth driven trends today stand to gain an advantage, because before we know it, these punchy, digitally savvy youths will make up the main (adult) consumer base. They already have a huge amount of spending power and influence over whether a brand sinks or swims, and this influence is only getting stronger.
As the first generation fully raised with a broadband connection, Gen Z are used to interacting with screens, and building relationships via digital platforms, be that with brands, remote working, or finding love interests via Hinge. It's going to be crucial for brands to harness this shift in behaviour if they want to stay relevant with target audiences, and speak in a language that Gen Z and beyond understand.
Gamification = instant gratification
The kids of today expect instant access to information, instant feedback, and rewards for their engagement with digital platforms and this is becoming increasingly prevalent within marketing campaigns.
It's something we've experimented with at Great State in collaboration with the Royal Navy as part of our recruitment campaign work. We used Instagram stories to engage Gen Z audiences and test new creative routes. Drawing inspiration from Call of Duty load screens, we used soldier imagery to create a "Choose Your Fighter" series, where users were asked to choose the correct soldier on screen from a multiple-choice selection. We gamified an educational experience that drove awareness of specific target roles within the Royal Marines. Engagement rates were over 50%, which compares to an average over anywhere between 20-25% on typical Royal Marine content.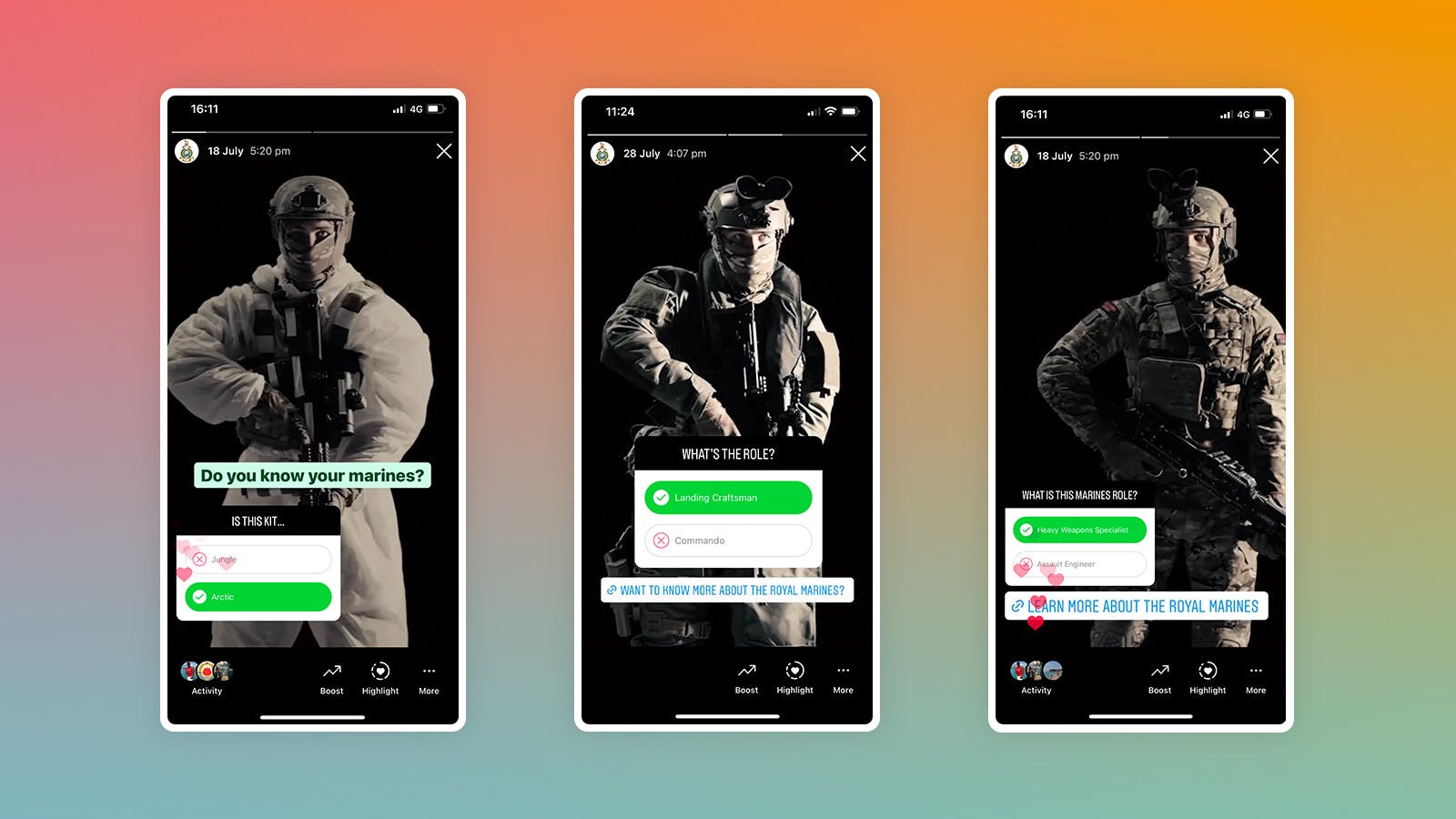 Nike have also leant into gamification this month with the launch of their World Cup campaign. Their Footballverse online experience taps into the success of games like FIFA, as well as other key Gen Z trends such as nostalgia, with legendary footballers appearing against today's heroes.  This campaign shows the full potential of gamification in action with a four-and-a-half-minute film, a dedicated web user journey, and loads of social executions across the channels owned by the stars of the film. Not only was this a great use of gamification, it was also a wonderful example of a successful digital PR campaign, with coverage being secured across the nationals, as well as The Drum, Four Four Two and Marca. On top of the 6.7M views on YouTube (and counting…).
Let's talk about cycling. For many, just the thought of cycling brings back memories of mis-spent teenage summers, cycling around town with friends, drinking 2L bottles of cider and generally getting up to no good. There's no way you could digitise and gamify this offline experience, right? Well… let's look at Zwift – they've taken this exclusively outdoors experience indoors. Initially capturing the opportunity of Covid lockdowns, this brand has built on the success of Strava and cycling communities and are now valued over £1B, with their most recent funding round securing $450M.  The beauty of this experience is that it offers travel experiences from the living room, which taps into another key Gen Z trend; they really value travel experiences, which isn't surprising after three-ish of restrictions.
As we become more connected, our world continues to shrink, and the global to local shift continues, it's clear that gamification won't be going away soon. Could we soon be seeing major business deals conducted from across the world in a Call of Duty lobby rather than the traditional C-Suite lunches at the golf club?
We'd put some tokens behind it.
If you'd like to find out more about how we can ready your brand for Gen Z consumers, slide into our DMs.