Great State at Umbraco Spark 2023: the highlights
Me and a group of intrepid Great Staters headed across the River Avon to attend Umbraco Spark a few weeks ago.
It's the Bristol based Umbraco conference which attracts attendees from across the world to share knowledge and insights about the latest Umbraco developments. It was a big year for me, not just because Great State was one of the event sponsors but also because I was one of the speakers. Looking at the event lineup, I knew it would be a fantastic day.
First up, Umbraco HQ pays us a visit
We have a close relationship with the team at Umbraco HQ and it's always a good time when we get together. The day before Umbraco Spark, we spent a few hours with Mike Pedersen and Lasse Fredslund from Umbraco HQ. We talked about the exciting roadmap of Umbraco products, and shared our ideas over some obligatory burgers and beers. The fun didn't stop - I joined the Umbraco Spark pre-party in central Bristol. It was great seeing some familiar faces while meeting new people from the Umbraco community.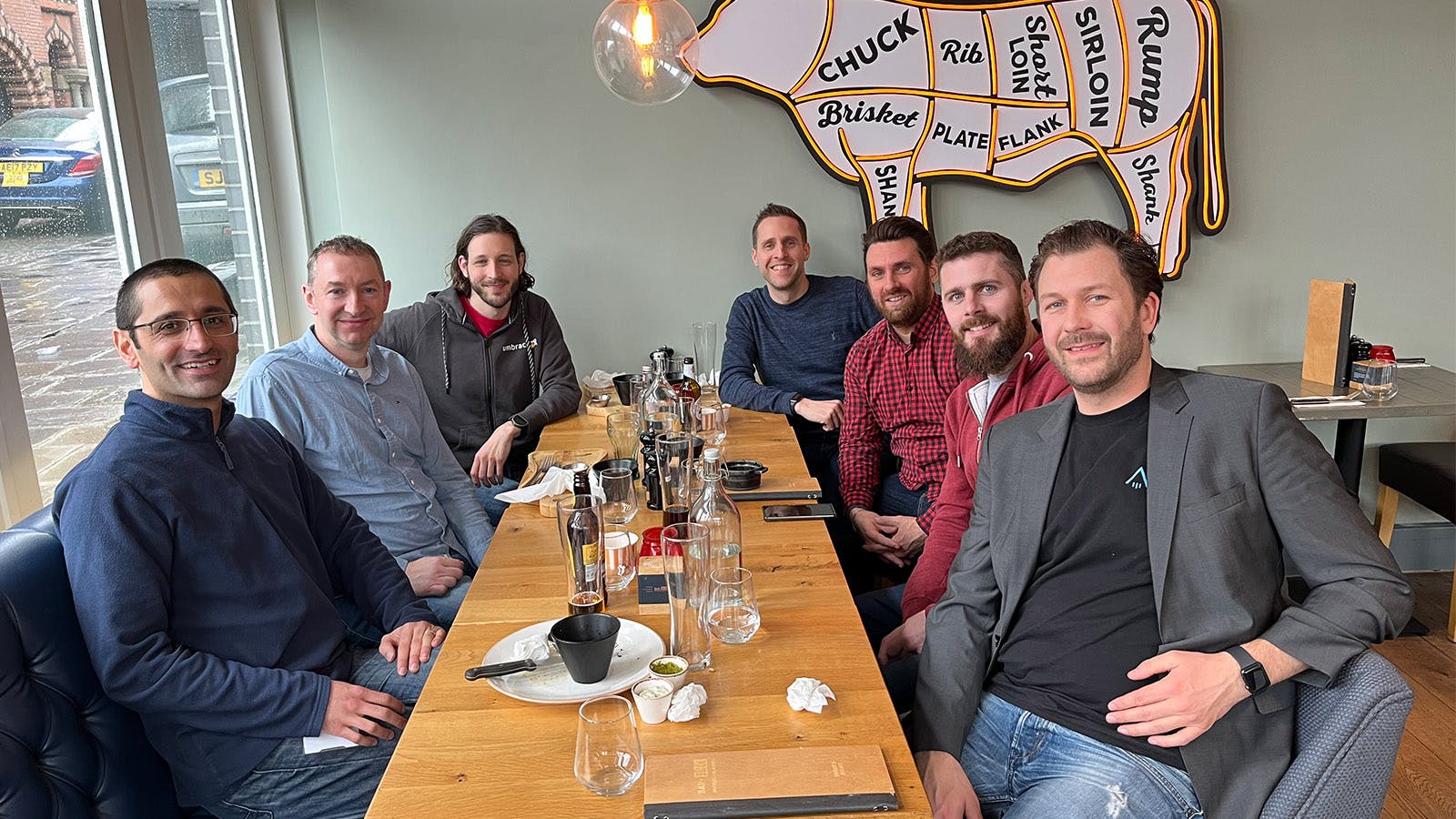 Some highlights
We had the opportunity to listen to two different tracks of talks during this year's conference. Since they were all so fascinating, we divided and conquered and made an effort to attend as many presentations as we could.
The new Umbraco back office
Jacob Overgaard and Lasse Fredslund from Umbraco HQ talked about the new back office of Umbraco, which will be available in v13, including some of the implementation details like how to use the Extension API to extend the core functionality. 
The compassionate developer and open source
Laura Weatherhead from the Umbraco Community gave the second talk in the same room, and she talked about how compassion can impact the micro and macro structures of open-source communities. Specifically in terms of the far-reaching positive effects it can have on contributor confidence and engagement. This was a new take on an interesting topic and I was really glad I made it to the session. 
A great talk about digital sustainability by Rick Butterfield
Rick and I met at the previous Codegarden. He is such a wonderful guy, and his presentation on "Decarbonising the planet, one Umbraco upgrade at a time" truly impressed me. He provided us with some information and gave us advice on how to create more sustainable solutions for our clients. Such as how to develop more environmentally friendly solutions for our clients by switching to greener hosting options, optimising and decommissioning app resources, and updating Umbraco projects to the most recent Umbraco version.
Playmaker: Dances with Wolves
Lee Kelleher, the current Umbraco MVP record holder, and senior backend developer Luke Hook gave another excellent presentation. They discussed how they upgraded the Wolverhampton Wanderers FC website from Umbraco v7 to the most recent version while also developing a modular architecture that they could use to other projects. 
A sustainable approach to the web
Great State places a high priority on accessibility and sustainability. So it made sense to attend Tom Morris and Neil Clark's presentation on sustainable development techniques, which included things from image optimisation to hosting selection. I'm going to take a lot of learnings from this session back to the team so we can implement them on our own projects.
Ultimate guide to upgrade your Umbraco v7 and v8 projects to v11
This year, I had the privilege of speaking at Umbraco Spark about my 12-steps for upgrading Umbraco v7 and v8 projects to the latest version of Umbraco. 
Prior to my talk, I spoke at the Umbraco Community Day event this year and wrote two Skrift articles on the same subject. The room was full to the brim because this has been a popular issue this year, and it was wonderful to learn that several attendees had followed my previous guidance on the topic and successfully upgraded their Umbraco projects. 
Content recommendations in a world of composable architecture
Sean Thorne and Matt Sutherland talked about the current Umbraco integration with Angolia as one of the third-party technologies that may be used for content recommendation engines. This was a fantastic presentation to demonstrate how these methods could be applied to produce product suggestions and individualised search results for website visitors. 
Creating a better editor experience: Bringing accessibility to life in our authoring tools
This was a top-quality talk by Danny Lancaster about the importance of creating accessible solutions, the current Authoring Tools Accessibility Guidelines, and how the Umbraco community can make a meaningful and impactful difference to web users. 
pAInting: Using AI to decorate your Umbraco content
This is not the first time that Emma talked about how to use AI with Umbraco. This time, Emma showed us how to use AI to generate media image from Umbraco content. She also discussed whether these AI generated images were art or ethical. 
Getting to grips with Github Actions will make your life better in every way
The final talk of the day was by Carl Sargunar. Carl demonstrated several Github tricks, such as simple, extensible, and repeatable Github actions for managing software libraries and packages. 
Final thoughts
It was a bumper year for Umbraco Spark and I left feeling amazed at how both the CMS and the Umbraco community keeps on innovating, developing and improving.
Later on, I had a chance to reflect on my first Umbraco Spark experience, which was in 2020, just before the UK's first COVID- 19 lockdown. Nobody was really sure about how to "securely" greet each other, but it is fair to say that Umbraco Spark 2020 gave me the final push that I needed at the time to be more visible within the Umbraco community and also contribute more to Umbraco. I also realised that this year's event was even better! #h5yr
If you're interested in learning more about our Umbraco expertise, then get in touch.