work
 / Royal Navy Recruitment Takeovers
Royal Navy Recruitment Takeovers
Engaging the Gen Z audience by making the Navy's Instagram takeovers more interactive

What the Royal Navy needed
Great State has been working with the Navy to drive recruitment via social media for some years. As part of this we've done a number of Instagram takeovers, but this year we wanted to make them more interactive, to appeal to a Gen Z audience, the Royal Navy's key target audience of 16-24 year olds.
What we did
Before we started the 2022 programme, we studied the analytics for 2021. These showed good reach, but we needed people to engage more. We know from wider research and our own insights that Gen Z like to get involved, so we decided to take the takeovers on-site.
Initially, we started with an introduction to solicit audience questions, then spent two days at HMS Raleigh, the Navy's basic training facility for Ratings, in Cornwall, and one at the Britannia Royal Naval College (BRNC) the Navy's training college for officers, in Devon. Filming on an iPhone, we generated 90 pieces of high quality, interactive and professionally produced content. Some were posted to Instagram immediately, some were used for content in later months to support the always on calendar of activity.
The following takeover was to support the Medical Branch, looking to recruit qualified nurses and surgical nurses, coinciding with International Nurses Day. For this we worked the RCN and AfPP partners to raise awareness of the takeover to their social audiences, and their CRM database to attract people that may be considering a change to their career. As this audience is niche, and relevant to a small number of our audience, we were extremely pleased to see that 35 people expressed interest in joining the Royal Navy in these high priority roles.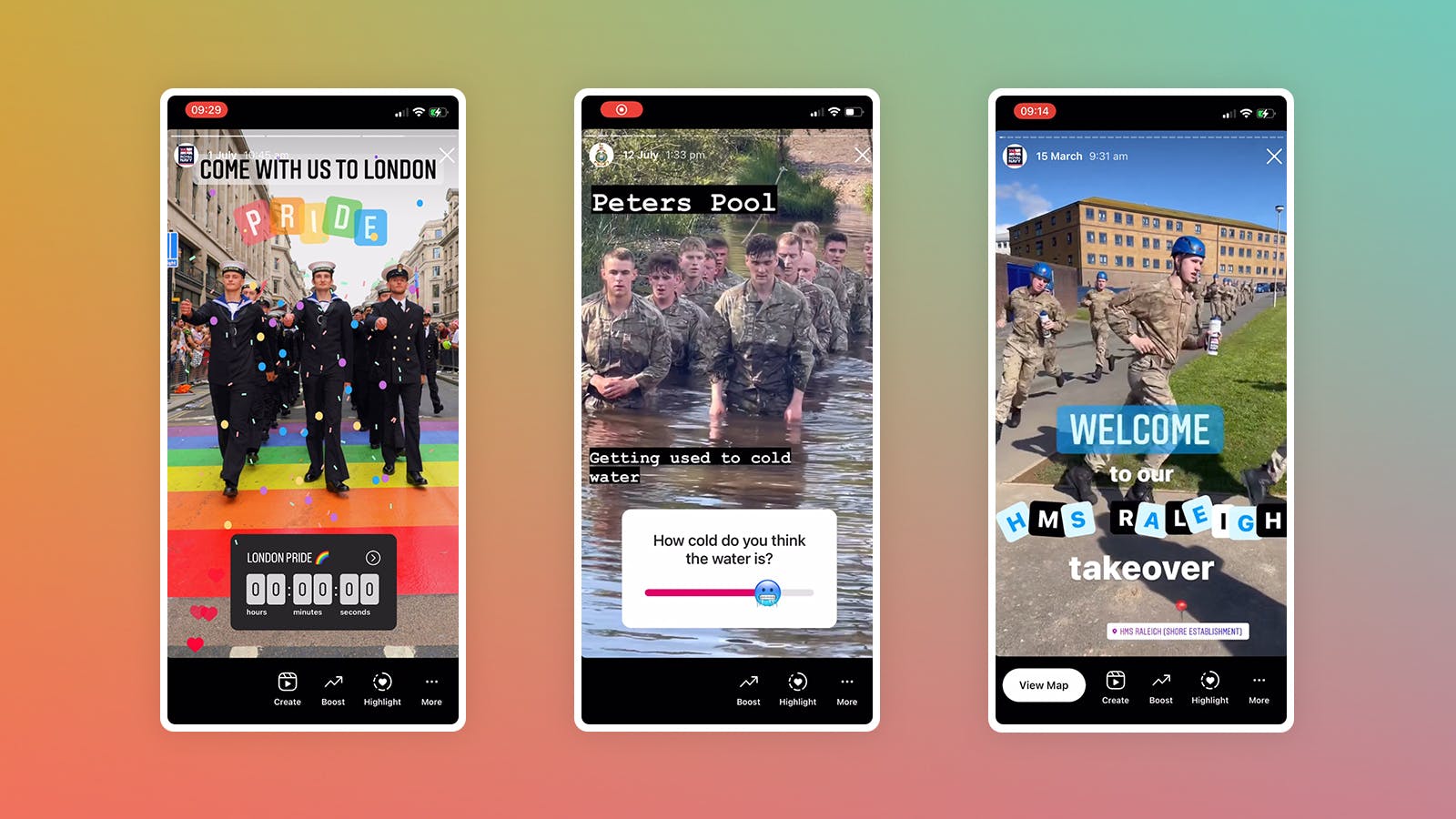 In July 2022 we supported the Royal Navy's PR Team and their LGBTQ Network, Compass, who were participating in the 50th Anniversary London Pride event in London. We managed this remotely but retained the format of asking the audience for questions which we then put to relevant Navy personnel staff. The objective of this takeover was pure engagement, and interactions and engagement were really positive, achieving an engagement rate of 7%, our highest for a takeover at this point in time.
The most recent takeover in 2022, saw us back on location at the Commando Training Centre Royal Marine to go behind the scenes of their Officer Selection Course, a five-day course for selected civilians, who applied to the marines to become officers.
The outcome
We achieved over 120 'expressions of interest' (EOIs) to join the Royal Marines and achieved our best engagement rate so far, 11%. The average number of EOIs for similar activity between 8-10. At its peak our work generated 2.27 million impressions.